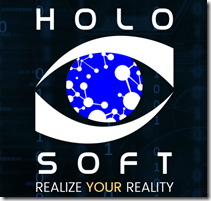 Greetings fellow Holonauts! In the continuing saga of Holographic awesomeness – here are updated Step-by-Step visual instructions for setting up your Unity 3D application to run on your HoloLens with the all new version of Unity 5.5.1!
Been very busy working on Hololens applications for clients and potential clients – and I'm now working on new presentations and blog posts for some very exciting Hololens / AR / VR topics! Strap-in and follow along.
Always refer back to "A Holonaut's Guide: HoloLens Development Resources" for everything you need and links to all things HoloLens!
Don't forget to join myself and others in keeping up with everything new for HoloLens / AR / VR news – follow HoloSoft on Facebook – and visit our HoloSoft site!
So – start by downloading the newest version of Unity – at this time 5.5.1 – the free version is excellent and does everything we need.
Now my Holonaut, let's dive into creating your first Hololens Holograms!