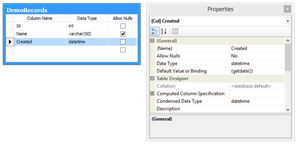 Need to setup a "Created" DateTime field in your SQL table that is auto-computed to add the current date and time that the field is inserted into the database?
If you're doing so in SQL – in the "Default Value or Binding" you just need to enter GETDATE() or GETUTCDATE() – insert a record, and you'll see the date/time value automatically added to that column. "…that was easy…"
But how to do the same thing when using Entity Framework Code First?
No big deal here either – as long as you add the couple lines of code described here…